Who is going to appear? Is anyone going to appear?
Reasonable questions to consider at the start of a Zoom chat with singer-songwriter J.S. Ondara, as the screen is blank, his camera not turned on.
Will this be Ondara himself? Will it be the Spanish Villager — the alter-ego character and "voice" of the new Ondara album, Spanish Villager No: 3? Or will he, either/both of them, choose to stay hidden? It's a possibility given the photos and videos teasing the album's release: the artist/character in a white suit imprinted with pages from a newspaper (the "SV Times"), his face obscured, wrapped in a crimson scarf.
"Just had to figure out how to operate this thing," he says, laughing, as he pops on.
And yes, the he here is Ondara. The Ondara who journeyed from his home in equatorial Nairobi, Kenya to snowy Minnesota nine years ago, lured by his love of Bob Dylan, the state's Nobel laureate native. The Ondara who has turned his dislocation and alienation into compellingly personal and affecting songs, first showcased on his 2019 debut album, Tales of America. The Ondara who has endeared fans with the sweetness in the probing, yearning outsiderness and unguarded vulnerabilities he explores.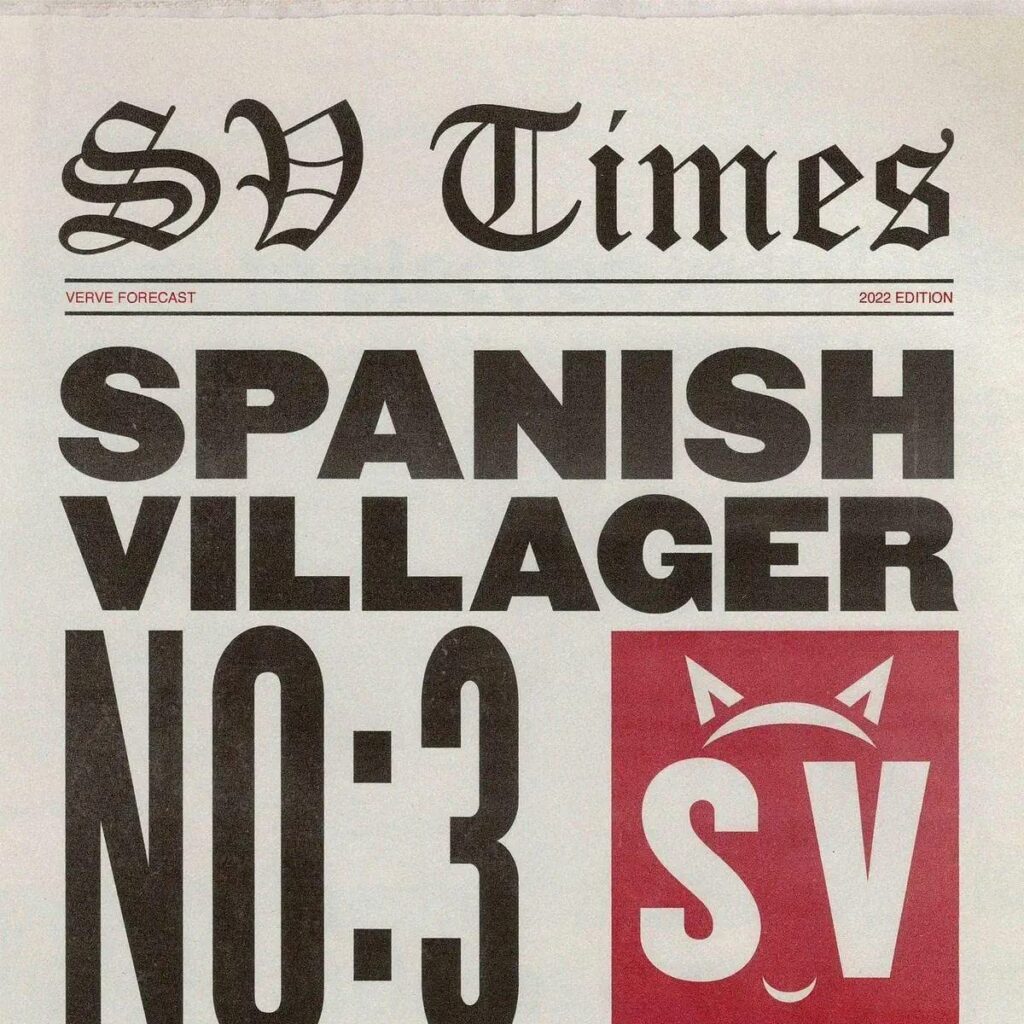 Sitting in his Minneapolis home, he is far from obscured. A smile rarely leaves his face, and his attire is, as customary with him, impeccably stylish, in this case a white newsboy cap and a brown jacket with cream-colored polka dots.
But for this album — for this part of his life — he sometimes needed to be someone else. His struggle for meaning and belonging, for love and communion in a strange land, demanded it.
"I wasn't like, 'Oh, I'm going to create this character,'" he says. "It was kind of a tyrannical process where my body, in a sort of heightened anxiety about my path, my journey in America, yielded to some kind of split personality."
Before you get too concerned about his state of mind, be assured that this was a positive catharsis.
"This character serves a lot of purposes for me," he says. "All of the purposes are geared toward the process of healing and the pursuit of health. One of the key purposes of this record is to function as a sort of repository for my anxieties. I just designated them to this thing outside of myself. I didn't have a choice as to whether this character existed or not. It was more like an assertion of life. At the time it was happening, it was confusing to me: 'No one understands why I'm doing this!'"
He laughs again.
"Not even myself!"
Now, let's not forget that "Bob Dylan" is a fiction himself, the simplifying and perhaps obscuring of Robert Zimmerman. This invention, the Spanish Villager, is different, though, its genesis and evolution coming from a serendipitous discovery.
"I was Googling randomly," he says. "And, 'Wait! This is my name! It's also the name of a small village in Spain? How did this happen?'"
Many Africans, he notes, have names derived from/imposed by colonial occupiers, but East Africa's colonial history is largely British. He asked his mother; he asked others who share what he calls his "very traditional African name." No one had insights.
"So it's just this strange coincidence," he says. "It was too fascinating to ignore."
[embedded content][embedded content]
This was all pre-pandemic — he addressed that particular existential grappling with an in-the-moment homemade album, 2020's Folk n' Roll Vol. 1: Tales of Isolation, a remarkably candid, heartfelt, even witty set of songs about that time. The turmoil and trouble captured in Spanish Villager predates our collective COVID reckoning.
Simply reading the song titles gives a sense of what's in store, each starting with "A," except for the opening song, which starts with "An" — "An Alien in Minneapolis." The first half's titles cite incidents and locales ("A Blackout in Paris," "A Seminar in Tokyo," "A Drowning in Mexico City"), the second batch phenomena and characters ("A Seasonal Amnesia," "A Witch and a Saint"), as if chapters in a novel. Or chapter and verse in a holy book.
"There's something religious about the record, something spiritual," he says, stressing that he broke away from his strict Christian upbringing in Nairobi.
In "A Seasonal Amnesia," he sings:
We were hurting for a savior
He was atoning for an older fable
And in the final song, "A Contrarian Odyssey," he closes the album with this:
Honey, are you ready?
I'm bringing the Torah
The Torah?
"You're forcing me to investigate my subconscious!" he says. "It's good. I suppose it's tied to Moses, which is a popular name in my family, and the deliverance of people. Something about America as the land of milk and honey, something Biblical and Canaanite about it."
In the song "A Suspicious Tolerance," he calls on someone on a different kind of quest:
Look at him Captain Picard
Show me an observation
Of a better civilization
So…Jesus, Moses and Jean-Luc Picard walk into a Spanish village…
"It's the fascination of civilization in general," he says, adding he saw some Star Trek while growing up but really connected with it in America. "And Star Trek existing in this place where they're traveling and going to observe civilizations as they sprout. It has that outside perspective. There are a lot of parallels between my journey pursuing the American experiment and a spiritual quest. I'm confronting myself, very deep parts of myself, as I keep pursuing this experience."
That's where he needed help beyond Jesus, Moses and a starship captain.
"I think the Spanish Villager is a result of this confrontation with myself and a confrontation with the reality of the American experiment."
Are the songs autobiographical? Certainly "An Alien in Minneapolis" is.
"Yeah!" he says, laughing again. "Since I happen to be an alien in Minneapolis. But some are; some are not."
The music, too, explores new worlds for him, beyond the sparer approach of his debut. Kinda like…well, you know.
"I was still in my evolution from folk into more rock, folk-rocking," he says. "I just imagined I would make an electric record and it would be a natural evolution in the way Dylan did."
Half of the album was produced by Candy Butchers' Mike Viola (who as an A&R executive signed Ondara to the prestigious Verve Forecast label and produced the debut) and the rest by Ondara. Dawes guitarist Taylor Goldsmith and drummer Griffin Goldsmith (who were also on the debut), bassist Sebastian Steinberg and drummers Jeremy Stacey and Tarek Abdelqader are among the musicians.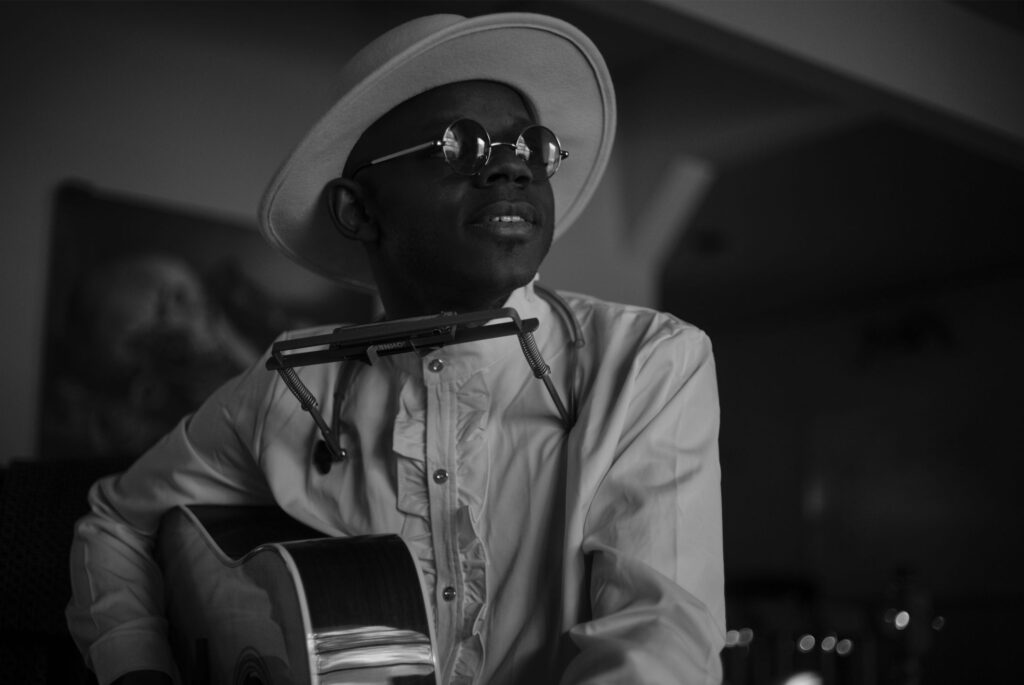 Apart from a consciously Dylanesque harmonica on "A Seminar in Tokyo," there is little overtly owing to the bard. Echoes of other searching outsiders resound throughout, though, many from the time of Picard — not the 24th century, but the 1980s, when that show debuted. Opener "Alien" starts with an atmospheric prelude evoking foreigners seeking meaning in America, specifically an Irish band in the California desert.
"It wasn't entirely happenstance," Ondara acknowledges. "But it wasn't entirely conscious either. I was listening to a lot of [U2's] The Joshua Tree while making the record. So I can see how Bono snuck in there."
Then there's the "Running Up That Hill"-like drum pattern on "A Prophet of Doom" — remember, this was recorded well before Stranger Things made the Kate Bush song a 2022 global sensation. (Ondara this summer released his own, movingly somber acoustic version of the Bush song.) And the beginning of "A Contrarian Odyssey" has a beat a la "Modern Love" by David Bowie — the Man Who Fell to Earth, the ultimate rock alien.
But in "A Witch and a Saint," there's a poignant shift. The skittering rhythm, rubbery bass and Ondara's falsetto on the choruses have a distinctly African sound.
"I have been trying to find ways of slowly integrating parts of African elements into my music more and more," he says. "I'm still trying to find a way to integrate that aspect of myself, gradually. And it's kind of a reverse thing, because I'm getting into a lot of Paul Simon, David Byrne and Peter Gabriel. So my fascination with Western musicians who were fascinated by a lot of African music is this circular thing. So interesting."
Is this, perhaps, a prelude to a prodigal return home?
"No," he says, firmly.
He has not been back to Kenya since he moved away.
"There was something about art being associated with the Devil, being something evil," he says. "It created a difficult relationship between myself and my culture."
He remains close to his family, he says, talking with his mother daily.
"It's difficult to go back," he says. "Not physically. I could just go. But it's difficult to get there in my head. There's a lot of distance in my head between where I am and home. And I probably need a lot more therapy before I can go back."