The 1975 have shared another new single off their forthcoming, previously reported, Being Funny In A Foreign Language.
The release of "All I Need To Hear" is accompanied by a Samuel Bradley-directed live performance video that was recorded at Peter Gabriel's Real World Studios in the U.K.
[embedded content][embedded content]
While talking to Apple Music 1 about the new single, frontman Matt Healy said of the track: "A lot of my songs require me to perform them, but I think that I'd love to hear Joe Cocker [sing this]–not that we could have that, but it feels like one of those songs where it's like I've stepped out of the Matty-ness of everything.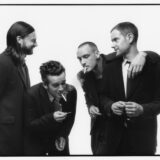 "And it's something that Adele could sing, it would make total sense, and she wouldn't have to talk about jacking off or what [The 1975's] usual subject matter is."
According to NME, Healy teased the new song last year when he joined Phoebe Bridgers as a surprise support act during her Oct. 22 show in Los Angeles.
The band had previously released "Part Of The Band," "Happiness," and "I'm in Love With You," which are off of the upcoming Oct. 14 release.
The 1975's North American leg of their tour kicks off on Nov. 3 in Connecticut.