Kurt Cobain's guitar used in the iconic "Smells Like Teen Spirit" video will be available for auction as part of Julien's Auctions' "Music Icons" auction which will take place at New York's Hard Rock Cafe and online May 20-22.
The left-handed Fender Mustang guitar comes in a Competition Lake Placid blue finish and is estimated to be valued between $600,000-$800,000. Prior to the auction, the guitar was on display at the MoPOP Museum of Pop Culture in Seattle.
"I'm left-handed, and it's not very easy to find reasonably priced, high-quality left-handed guitars," Cobain said in his final interview with Guitar World of the guitar. "But out of all the guitars in the whole world, the Fender Mustang is my favorite. I've only owned two of them."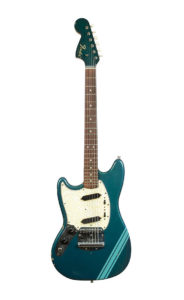 The winner of the guitar will also receive an exclusive NFT with the narration of the cultural significance of the guitar recorded by Cobain's guitar tech Earnie Baily. The NFT will also feature a 360° digital image of the guitar.
"To see this fabled guitar, one of the most culturally significant and historically important guitars not only of Kurt Cobain and Nirvana's legacy but in all of rock music history, come to our auction house has been one of our greatest privileges and most distinguished honors." said Darren Julien, President and Chief Executive Officer of Julien's Auctions.
A portion of this extravagant estimated price from the auction will go to the "Kicking the Stigma" initiative in honor of Mental Health Awareness Month in May. The initiative is dedicated to raising awareness about mental health disorders.
In addition to the auction of this historic item, other Nirvana and Cobain artifacts including NFT artwork and Cobain's 1965 Dodge Dart 170 4-door sedan "Baby Blue." Julien's Auctions has auctioned off other similar artifacts in recent years, all bringing in notable value. More information on the auction items for this May can be found here.