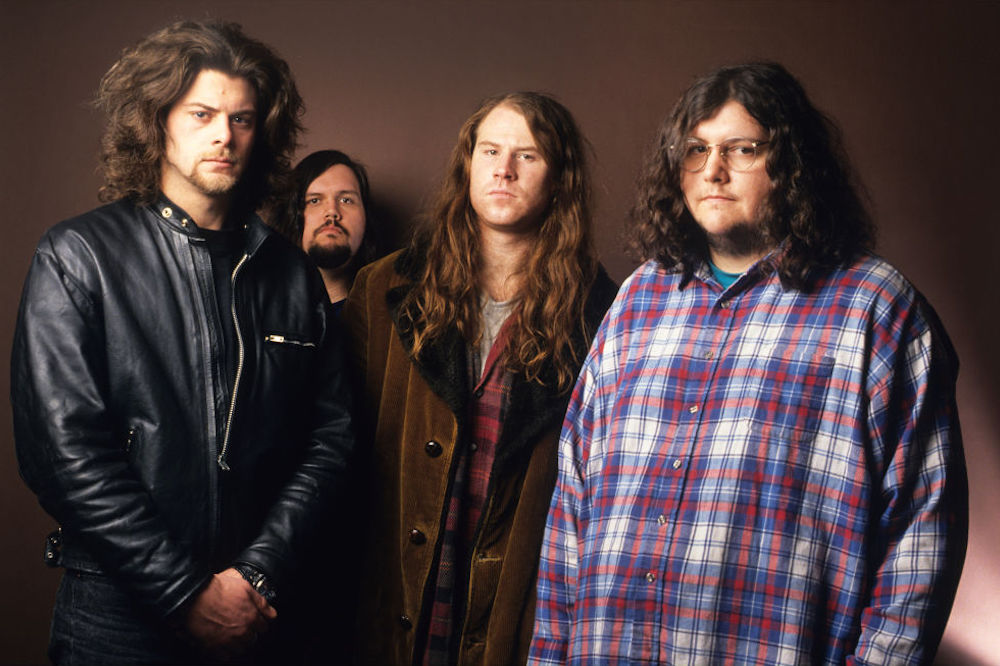 This article originally appeared in the March 1993 issue of SPIN. It is being republished in memory of Mark Lanegan, who died earlier this year.
Stepping onto the Screaming Trees' tour bus, singer Mark Lanegan has the half-haggard look of a man somewhere in the middle of a long tour. Freshly washed long hair obscuring his craggy, classic rock features, he communicates with bandmates and crew in monosyllables. I might, under normal circumstances, be put off by his terse mien, but these are hardly normal circumstances. I'm still in awe of the Trees' totally plush bus, which, according to road manager Rod Doak, saw recent service with U2. Bunks big enough to easily berth the largish Conner brothers (that's Van "Bass" Conner and Gary Lee "Guitar" Conner), tasteful pastel decor, microwave, mobile phone, fax machine, two stereos, four VCRs, 16 TVs, Wilt Chamberlain model Jacuzzi kept at a constant 101 degrees, and deluxe "fitness center" with rowing machine.
Matter of fact, they have to pull me away from the massage table to interview Lanegan, and at first—I admit it—I'm a little chagrined. But Lanegan turns out, despite his initial bout of laconism, to be forthcoming, even charming. Lanegan's affable volubility contrasts greatly with most of the reports in the press about the difficult, moody, tortured, urn, drunk Screaming Trees frontman. Currently, he's sucking on a Sprite. Are the press reports exaggerated? Do you sometimes, maybe, have fun with overly credible journalists?
"Sometimes definitely you fuck with people," answers Lanegan in a low, raspy murmur. "Out of boredom, just to amuse yourself or your buddies who are there watching—but a lot of times I'm not sure how to respond to certain things. I'm not going to sit there and explain the obvious over and fucking over.
"As far as being difficult," he continues, "I've got a pretty bad temper sometimes, but who the fuck doesn't? If you're getting fucked with, and you do get fucked with every day—everybody does—at some point you just snap and kill somebody. Ha ha ha. Just kidding."
Screaming Trees, yes, live in Seattle, and, yes, are featured on that stupid Singles soundtrack, and yes, the band has a heavy guitar sound that I guess you could describe as somewhat, uh, "grungy," but believe it or not, no, the Trees do not suck. After toiling in relative indie-rock obscurity for three uneven but promising SST LPs, the band signed to Epic in 1990, pregrungemania, and subsequently released a fairly duff major-label debut LP, Uncle Anesthesia, whose relative incoherence reflected the less than easy relations among the band itself, which would soon lose its original drummer, Mark Pickerel (capably replaced by Skin Yard's Barrett Martin). Lurid stories of band infighting, including tales of the Conner brothers wrestling each other on the studio floor, were, "if anything, underexaggerated in the press," according to Lanegan.
Somewhere between that album and the recording of the latest, the Trees decided to "pull together, as corny as that sounds," says Van Conner. "We thought it would probably be our last record. So we actually worked together on the songs for the first time in years. In the course of which we also became friends again."
The result, Sweet Oblivion, jettisons a good deal of the band's previous fascination with psychedelics in favor of succinct melody-mongering, of which the Singles single, "Nearly Lost You," is the most sterling example. Lanegan's whiskey-bent and hellbound voice has matured over the last couple of albums to the point where he may be one of the best rock singers now going; and the band's unabashed love for and command of '70s rock clichés only strengthens the impact of its better songs. If Sweet Oblivion doesn't perform as well as, say, Ten, in the unit-shifting sense, I have to believe it's mostly because the Trees aren't as MTV-friendly as Pearl Jam.
Later that evening, I wait in line outside Roseland, this big ballroom in New York City, where the Trees are opening for Alice in Chains. It's a very Lollapalooza-like mix of kids: wool-capped, flannel-bound alt-rockers, tattooed, Harley-accessorized metalheads, doe-eyed collegians, pony-tailed industry geeks, and rumpled, reeking journalists.
The line is so long that the Trees are already onstage by the time I get inside. Roseland is kind of cavernous, so the sound bounces and rolls in bass-compounded waves over the crowd, but Gary Lee's guitar is loud and sharp enough to surf easily over the rhythm section's rumble. Van and his brother jig madly to and fro, while Lanegan clings to the microphone stand in apparent desperation, cigarette in one hand, eyes closed. Intense versions of much of Sweet Oblivion are enthusiastically received before the band ends its relatively short set and trudges back to the bus.
I slowly walk the few blocks back to my hotel, ears not quite bleeding, to discover the Trees' "Nearly Lost You" video blaring from my MTV-tuned TV. And—here's the weird thing—I didn't switch channels.